Follow This Before a DIY Bathroom Remodel with AMS Renovations
DIY bathroom remodeling can greatly add value to your home, improve your quality of life, and save your money. However, a beautiful bathroom remodel requires detailed planning and execution.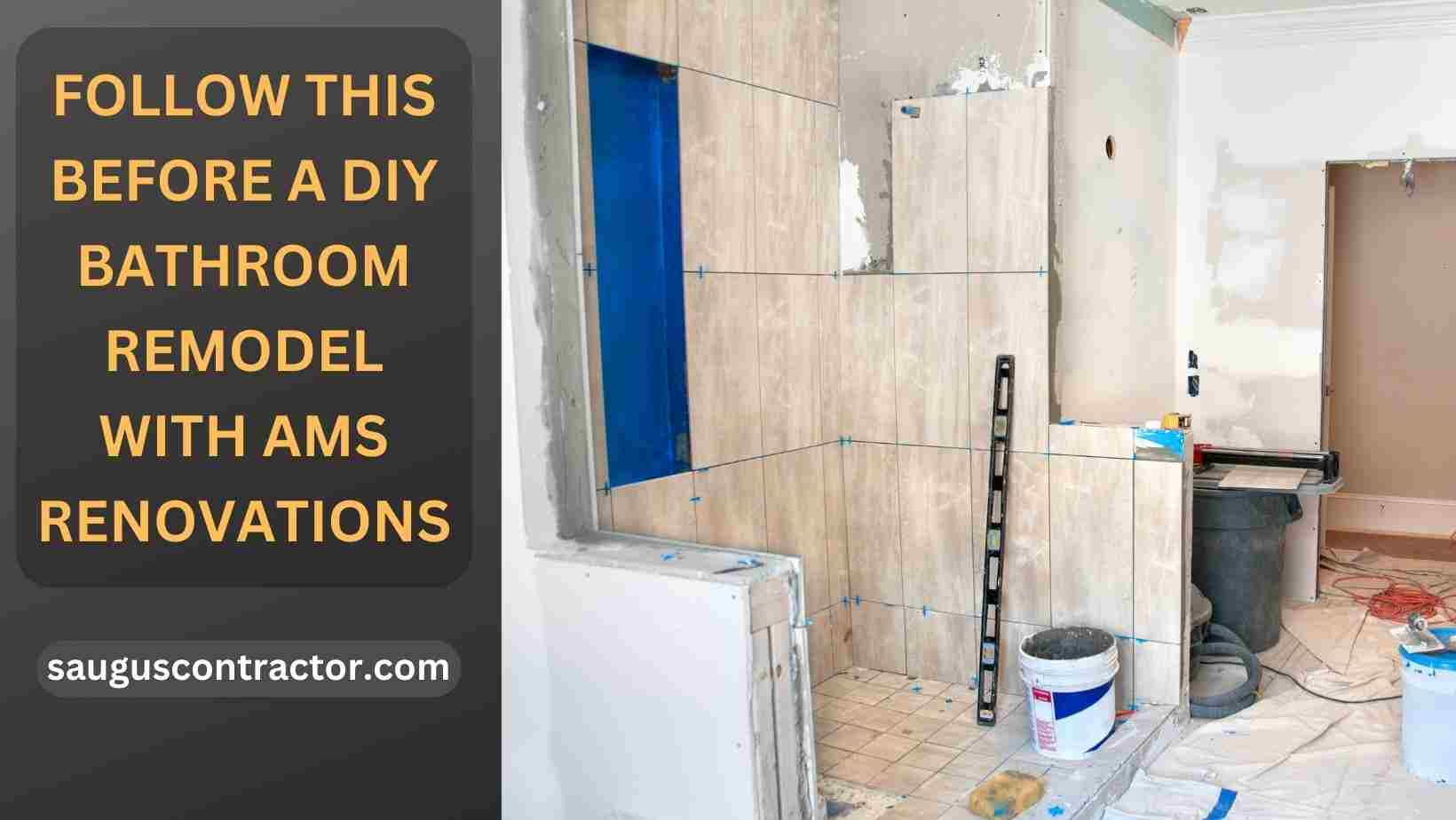 Bathroom Remodel with AMS Renovations
Here are some steps you should follow:
Assess your bathroom's existing conditions and determine what changes you want to make. Make a list of your needs, such as a new shower, bathtub, or toilet, and consider the costs associated with each item.

Set a realistic budget for your bathroom to remodel. Bathroom remodels can quickly get out of hand if you don't keep a close eye on your spending. Make sure you budget for all the necessary materials, tools, and labor costs.

Hire a professional contractor for the plumbing and electrical work. AMS Renovations is a great option for bathroom remodeling in Boston. They have a team of experienced professionals who can handle all the plumbing and electrical work for you, ensuring your bathroom is up to code and safe for use.

Research and compare different bathroom fixtures, materials, and colors. List the items you need and their prices to stay within your budget.

Plan your bathroom remodel carefully. Make a schedule and stick to it so you don't end up with a half-finished bathroom for months. Consider hiring a project manager to help keep things organized.

Don't forget about storage space. Bathrooms often need plenty of storage for towels, toiletries, and cleaning supplies. Make sure you plan for enough storage space in your bathroom remodel.

Make sure your bathroom remodel is up to code. Building codes and regulations change constantly, so research the latest codes in your area and obtain the necessary permits before starting your remodel.

Hire a professional contractor for the finished work, such as tiling, drywall, and painting. This will ensure your bathroom looks great and is up to code.

Consider lighting and ventilation. Good lighting and ventilation are essential for a comfortable and safe bathroom. Ensure you have plenty of light sources and a well-placed fan to keep the bathroom well-ventilated.

Enjoy your newly remodelled bathroom! You'll love the new look and improved functionality and feel great about the money you saved by doing the remodel yourself.
By following these steps, you'll be able to complete your DIY bathroom remodel and enjoy a beautiful, functional, and safe bathroom for years to come. Whether you're looking to make small changes or completely overhaul your bathroom, the key to success is careful planning and execution. If you need help with your bathroom remodel in Boston, consider hiring AMS Renovations to handle the professional aspects of the job.